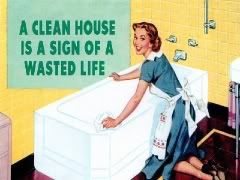 C
leaning the house requires special criteria. For example you can't look at the mess anymore or your very judgemental family member/friend is coming over and you know she'll look in corners (she, because you could have a native tribe living in your walk-in and he still wouldn't notice). One necessity for me is music. Housework cannot be done, well not be me anyway unless the mood is right and the housework music is very loud.
Which poses the question what is the best music to clean the house with?
For me, no kitchen floor will shine without Iggy Pop's Search and Destroy. Nancy Sinatra's greatest hits will get the vacuuming done and if we're talking about the shower screen it's got to be The Saints, Know Your Product. This works for me. What works for you I wonder?